The All-New
2021 Ford F-150
TOUGHER THAN BEFORE. SMARTER THAN EVER.
The all-new F-150 is purpose-built from the ground up - redesigned to be the toughest, most productive F-150 ever. This is what happens when you merge premium-grade muscle with finely tuned intelligence and design. A beast with brains. A relentlessly tough, high-strength, military-grade, aluminum-alloy body and torture-tested high-strength steel frame with new tech to help you work smarter and harder.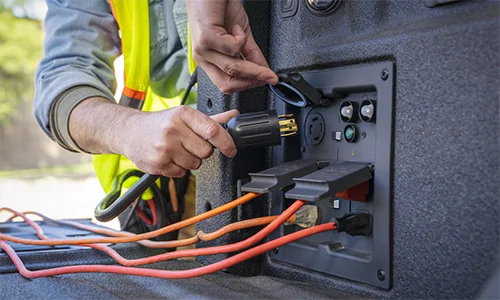 Pro Power On Board
It's that amp turned up, we have liftoff type of power - and your F-150 delivers it, even when parked. Class-exclusive* Pro Power Onboard gives you the ability to use your truck like a mobile generator. And with the new, class-exclusive* available 3.5L PowerBoost™  Full Hybrid V6 engine, you can wield up to a massive 7.2kW of available output.
*Class is Full-Size Pickups under 8,500 lbs. GVWR. Production image shown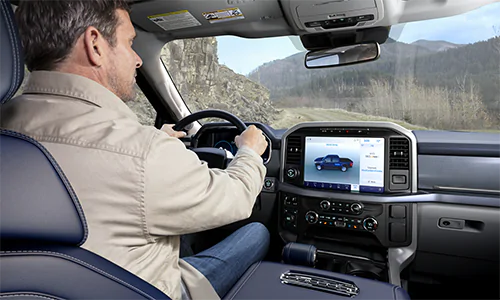 All-New Interior
This is your office, your inner sanctum, your home on the road. Now enhanced with new materials, smart new tech linke SYNC® 4, an available 12-inch touchscreen, and new usability features, including an available interior work surface to handle the business end of your business, available mac recline seats*, and available rear locking underseat storage.
*Not to be used while driving. Available spring 2021. Preproduction Computer Generated Image Shown.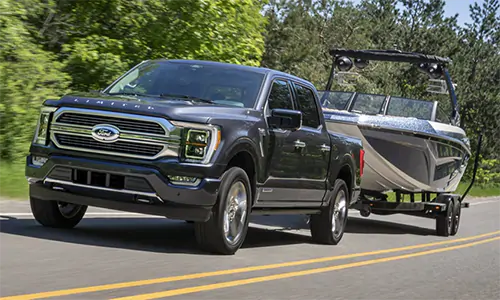 Best In-Class Capability
No days off. On the job or on the way to the lake, F-150 takes it all on with unmatched power and capability. That means targeted available best-in-class towing, payload, torque and horsepower.* Oh yeah. All that power straight from the belly of the beast with six available, relentless engines. If that doesn't get your chest pumping, nothing will.
*Based on targeted best-in-class towing, payload, horsepower and torque. Class is Full-Size Pickups under 8,500 lbs. GVWR. Max towing on F-150 XL SuperCrew,® PowerBoost,™ 5.5' box, 4x4 shown. Max towing varies based on cargo, vehicle configuration, accessories and number of passengers. Max payload on F-150 XL Regular Crew, 8' box, 5.0L, 4x2, Heavy-Duty Payload Pkg. See label on doorjamb for carrying capacity of a specific vehicle. Towing, payload, horsepower and torque are independent attributes and may not be achieved simultaneously. Max horsepower and torque with available 3.5L PowerBoost engine/ Preproduction image shown
PURPOSE IN EVERY INCH
An F-150 tows, hauls and grinds all day long, so you know it's not sweating the details. The all-new F-150 interior puts productivity at the forefront. So utilize your driver's seat like an office chair, with an available interior work surface, standard SYNC® 4 and an available 12-inch productivity screen at your disposal.
Class-Exclusive POWERBOOST® Full Hybrid
The available 3.5L PowerBoost® Full Hybrid V6 engine is an army of one, harnessing the combined effort of gas and electric energy in a single, torture-tested body. Using its collective might to lift, tow and carry the load. It's the type of raw power that gives this class-exclusive engine* a max towing capability of at least 12,000 lbs.** and targeted best-in-class* horsepower and torque.
*Class is Full-Size Pickups under 8,500 lbs. GVWR.**Targeted EPA-estimated range applies to an available trim. Actual range will vary. Final EPA-estimated ratings available later in the 2020 calendar year.Preproduction Computer Generated Image Shown.
MAX RECLINE SEATS
Loading bricks. Chopping wood. Bailing hay.  And after all that hard work? New available Max Recline Seats* fold almost completely flat to help you take a well-deserved break.
*Not to be used while driving.
F-150 RAPTOR. TAKE THE HARD ROAD.
When the road diverges, a true off-roader goes right down the middle. The 2021 F-150 Raptor is equipped to take on punishing terrain that would be off-limits to a conventional 4-wheeler. * Next Generation FOX™ shocks with Live Valve technology are the largest ever shocks on Raptor. The internal bypass technology features an electronic solenoid valve that provides active damping. Plus, the Raptor is available with massive 37" BFGoodrich® All Terrain T/A® KO2 tires.
*Always consult the Raptor supplement to the owner's manual before off-road driving, know your terrain, and use appropriate safety gear.FOX is a trademark of FOX Factory, Inc.Preproduction vehicle shown. Available summer 2021.
PUSH BOUNDARIES WITH A TORTURE-TESTED F-150
The going's never tough enough for an F-150. With persistence in its blood, there's no question that this year's model is Built Ford Tough®  to exceed your expectations for capability and dependability. It's battled grueling torture testing at temperatures ranging from -40o to 120o F on Ford proving grounds and in real-world conditions. Towing heavy loads over steep inclines, bone-rattling terrains and in merciless conditions, this truck has proven that it can meet the toughest challenges you can subject it to.